Missing teeth can have a negative impact on the appearance and function of your smile. Fortunately, patients who are missing teeth due to tooth extraction, gum disease, or trauma can maintain a beautiful, functional smile with a custom dental bridge.
Crafted from high-quality materials, conventional bridges are a practical tooth replacement solution available at Smile 360™ in Austin, TX. We also have implant-supported bridges available for patients who want to enjoy the added benefits of dental implants. Dr. Vincent Ip is a member of the Texas Dental Association and has several years of experience designing beautiful smiles for those in our community. Our team is committed to delivering high-quality dental care in a friendly, comfortable atmosphere.
What Is a Dental Bridge?
A traditional bridge is designed to fill in a gap left behind by one to three missing teeth in a row. The restoration is fabricated from a solid block of ceramic, zirconia, or another high-grade dental material consisting of two dental crowns and artificial teeth called pontics. In order for this custom restoration to fit properly, the teeth on either side of your gap must be slightly reduced. The crowns are then bonded to the adjacent teeth and the pontics "bridge the gap" in your smile.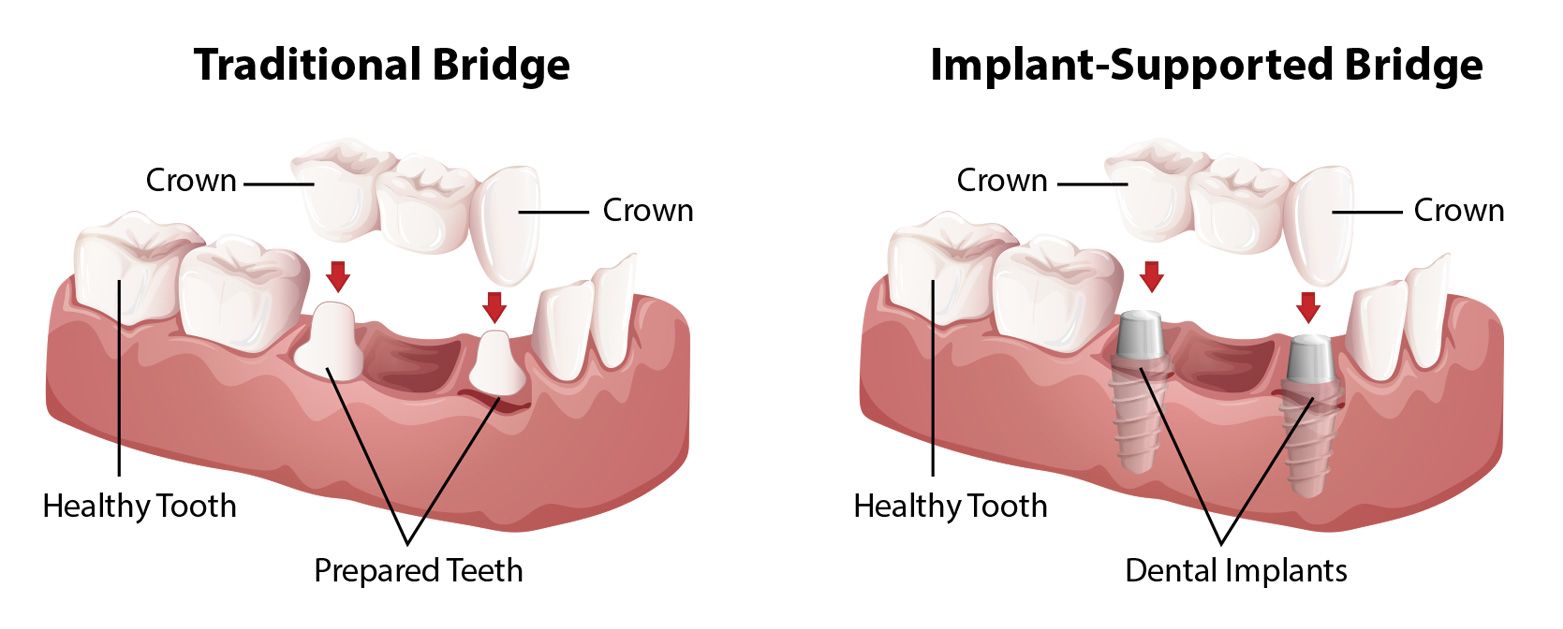 Traditional vs. Implant-Supported
In terms of design, an implant-supported bridge is virtually the same as its conventional counterpart. However, the primary difference is that an implant-based restoration is anchored to dental implants rather than your resized teeth. Because dental implants are widely considered the most successful tooth replacement solution available, many individuals choose this long-lasting, reliable option. Dr. Ip can restore dental implants with a bridge in our office.
Are You a Candidate for a Dental Bridge?
A dental bridge is recommended for replacing one to three teeth in a row. If you are missing more teeth, Dr. Ip may speak with you about alternative treatments such as a fixed or removable partial denture. Because your adjacent teeth serve as anchors for your restoration, they should be in good shape and structurally sound.
If you are missing one to three teeth in a row, a dental bridge can dramatically improve the look and feel of your smile.
Before receiving a dental bridge, patients should be free of gum disease, tooth decay, and any other serious oral health issues. If these conditions are present, Dr. Ip can recommend treatments to improve the health of your smile first.
What to Expect During Treatment
Receiving a dental bridge is a relatively simple process that can typically be completed in two office visits. The process involves:
The initial consultation: During your first visit with Dr. Ip, he will assess your teeth and gums to ensure that a dental bridge is an appropriate treatment option for you. X-rays or scans will also be taken so the underlying bone can be evaluated.
Preparation: In order to prepare the teeth for your new dental bridge, Dr. Ip must resize your adjacent teeth. This allows the restoration to properly fit. However, those who opt for an implant-supported bridge will forego this step and undergo dental implant surgery instead.
Impressions: Dr. Ip will obtain impressions of your mouth, which will be delivered to our trusted dental lab.
Fabrication: A skilled laboratory technician will design your custom restoration. This process usually takes about one to two weeks. In the meantime, Dr. Ip may place a temporary restoration to allow you to resume eating and speaking.
Placement: Once your new dental bridge is ready, we will schedule you for a second office visit. During this appointment, Dr. Ip will try in your restoration to ensure an appropriate fit and will bond it into place, making any necessary final adjustments.
Potential Results and Benefits
Once your final restoration is in place, you can enjoy normal function once again. Dental bridges offer a number of benefits, including:
Filling in gaps and spaces to bring uniformity to your smile
Restoring chewing function
Improving speech
Balancing the bite for reduced wear and tear
With proper care and frequent visits to our office, your dental bridge can look and feel great for several years.
Replace Missing Teeth Today
If you are missing one to three teeth in a row, a dental bridge can dramatically improve the look and feel of your smile. To find out if you are a candidate, visit Smile 360. You can schedule a consultation online or call us at (512) 444-4746.