Do chipped, discolored, uneven, or crooked teeth make you feel self-conscious?
Dr. Vincent Ip of Smile 360™ in Austin, TX, can use porcelain veneers to conceal imperfections and enhance your smile.
Learn why porcelain veneers are such a popular cosmetic dentistry procedure...
Veneers Can Improve Your Smile
and Your Self-Confidence
Lifelike Materials
Dr. Ip only uses top-quality porcelain to create dental veneers for his patients. Dental porcelain is expertly customized to blend in with your surrounding teeth, giving you a natural-looking smile upgrade. Porcelain veneers also mimic the shine and texture of natural teeth.
Long-Lasting Results
Porcelain veneers have several benefits over other procedures, which make them a worthwhile investment. They are stain-resistant and carefully designed to last several years before they need to be replaced.
Do the results really look natural?
Before and After
Porcelain Veneers
Why Choose Dr. Ip to Design Your New Smile?
Dr. Ip is a native of Stephenville, Texas, who achieves excellent results through porcelain veneers. His mission is to provide his valued patients with excellent, individualized care. Dr. Ip graduated from the University of Texas, Austin, and takes great pride in having built an independent practice that serves the Austin community. Smile 360 uses the latest materials and procedures to provide the best results in the utmost comfort. Dr. Ip is a member of the American Dental Association and the Academy of Sports Dentistry.
To schedule a consultation and find out if this solution is right for you, contact our Austin, TX, office online or call us:
"The best dentist office around! I hadn't been to the dentist in many years because of how intimidating they can be. This place is the opposite! Everyone is so welcoming and makes you feel at home. I had major gum work and also got veneers. Love my new smile!"

Trent Moore - 2020 - 5-Star Review
Preview Your Enhanced Smile
Before Treatment Begins
Many patients worry that a new smile with veneers won't live up to their expectations. Unlike other dental practices, we don't expect you to commit to the treatment without knowing the results.
That's why our Austin practice uses Digital Smile Design, an advanced system that allows you to view the results of your veneers before committing to the treatment. We can show you what your smile will look like with veneers as early as the consultation stage so you fully understand how much of a difference veneers can make in your smile.
Here's How Veneers Work...
Are Dental Veneers Right for Me?
Your dentist will determine if this dental procedure is right for you based on the following:
Oral Health
If you show signs of periodontal disease, tooth decay, or other health concerns, Dr. Ip must resolve these issues before moving forward with veneers. We can provide virtually any preparatory care you might need in-office.
Teeth Grinding
Some people grind their teeth all day due to stress and other factors. Dr. Ip only uses very strong materials, but teeth grinding can still cause damage as time goes on. You might need a customized night guard to protect your new smile when sleeping.
Minor vs Major Misalignment
Having porcelain covers bonded over your teeth is a simple, effective way to hide minor dental misalignment. But if your issues are severe, Dr. Ip might suggest braces or Invisalign® instead.
Commitment to Good Oral Hygiene
In order to maintain your cosmetic enhancement, you should brush at least twice a day, floss daily, and schedule regular cleanings and exams at our beautiful Central Austin office.
It is also very important for anyone wishing to receive dental veneers to understand that once a tooth has been prepped for this treatment, it will always require some kind of dental restoration to compensate for the reduced enamel.
"Best Dentist Ever! Been coming here for about a year now, and I have consistently been blown away by the friendliness, professionalism, and overall badassery of everyone I've interacted with at Smile 360. You will be in GREAT hands with Dr. Ip and his staff. I can say without a doubt this is the best dentist's office I've ever interacted with. A++"

Chris B. - 2019 - 5-Star Review
Aren't Veneers More Expensive
Than Other Treatments?
Dental veneers can cost more than other treatments, but that's because they look more natural and last longer than the alternatives. For example, dental bonding costs less and can look reasonably natural, but the results aren't as realistic and don't last as long.
Why Veneers Are Worth the Investment
For the right candidates, veneers are a worthwhile investment because:
They are made to last a decade or longer.
Each veneer is carefully crafted to look natural and feel comfortable in your mouth.
In many cases, they can provide the same results as other cosmetic procedures such as whitening, orthodontics, and dental crowns combined.
The entire process takes a few weeks, usually requiring only two to three visits to our warm and friendly office.
If you want to resolve minor misalignment, they can provide the desired results much faster than orthodontics.
The Transformative Power
of Dental Veneers
With just a few expertly placed porcelain veneers, Dr. Ip helped this patient hide small chips and slight misalignment to achieve a result that exudes warmth, confidence, and charisma. If you have the kind of smile imperfections that don't affect your oral health but make you dread smiling for pictures, results like these can be yours at our Austin practice.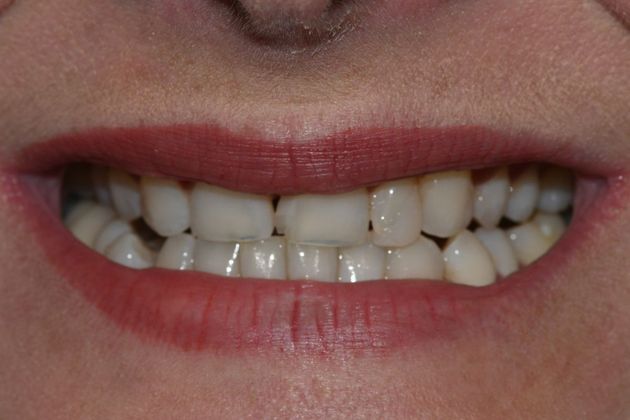 Let's Get Started!
Book Your Veneers Consultation Today
If you have been hesitating to let your personality shine due to little imperfections in your smile, it's time to take the first step toward a more confident and radiant you. During your personal consultation with Dr. Ip at his Austin practice, he will examine your smile, listen as you explain what you wish to change about your teeth, and make an expert recommendation. With his help, you can start letting your very best qualities open doors to exciting new chapters in your personal and professional life.
Let's make it happen. Request a consultation online or reach out to our Austin office by phone:
"His Dental Work is PERFECT."
Let me first say, I am a dental hygienist so I'm naturally very picky. So even though I could get free dental care at the clinic I work for, I choose to go to Dr. Ip because his dental work is PERFECT. The office is clean, modern, efficient, uses cutting edge technology, and the entire staff is on point with their skills and professionalism.

E Singler - 2022 - 5-Star Review
What happens during treatment for veneers?
What to Expect
from Start to Finish
Here's what to expect over the course of your two porcelain veneer treatment appointments:
You Can Get Started Today
Questions About Veneers?
Our Friendly Staff Can Help
With our Digital Smile Design system, you can see the results before committing to the treatment. However, you may still have questions or concerns about the procedure, cost, or other information regarding veneers.
Dr. Ip is your number one resource in the Austin, TX, area to learn more about veneers and whether they are right for you.
You can discuss veneers with Dr. Ip in detail during a consultation, submit a question to our team, or call our office. For comprehensive answers that take into account your unique needs, request a consultation.
By taking proper care of your smile, your veneers could last between 10 and 20 years.
Once your dental veneers are bonded into place, you may find yourself smiling more freely and loving what you see in the mirror. Naturally, you'll want to make these results last as long as possible. Dr. Ip is here to help make that happen.
Caring for veneers isn't difficult. Generally speaking, you just need to continue to brush twice and floss at least once a day and keep up with your regular dental checkups. However, there are a few extra steps you can take in order to make your veneers last well beyond the ten-year mark:
Don't use your veneers to bite into sticky or hard foods
Wear a mouthguard if you play contact sports
Don't use your veneers to open packages
Break habits such as chewing your nails, ice chips, or pen caps
It's Like Night and Day
Dental Veneers Make All the Difference
This patient's uneven smile was made to look beautifully aligned and camera-ready with porcelain veneers. When you have minor misalignment that makes you hesitate to smile, life doesn't always budget six to 18 months for orthodontic therapy. If you want a serious cosmetic upgrade that can have you looking your very best in time for a wedding or other milestone, porcelain veneers could be the solution for you. Talk to Dr. Ip in Austin about how you can benefit from this solution.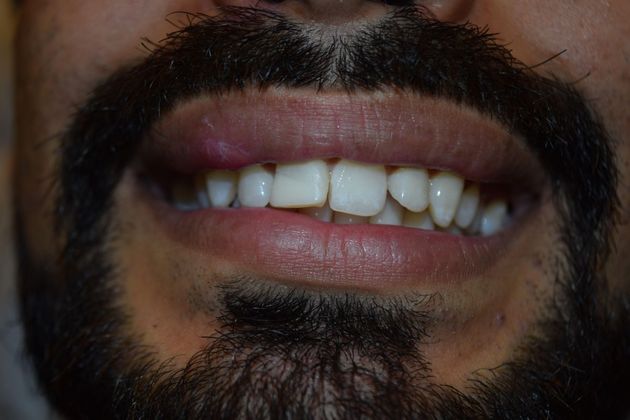 The Smile360 team are the best in town, it's just that simple. Dr Ip is meticulous in his attention to detail, quality of care and overall customer experience. The wider 360 team are always super helpful and accommodating, each are dedicated highly skilled practitioners in their own right.

Ewan Speirs - 2021 - 5-Star Review
Dr. Ip Can Give You Something
to Smile About
Let's face it - life is too short to let anything hold you back from sharing an unforgettable smile, especially small dental imperfections like cracks, chips, and stubborn stains. Dr. Ip has helped many patients elevate their quality of life through carefully planned veneers. What are you waiting for? Discover how this popular treatment can make each and every day a little more rewarding. Request a private consultation online or just give our Austin practice a call:
Part of a Complete Smile Makeover
We can combine veneers with other treatments in a complete smile makeover to address multiple aesthetic issues with your smile.
Teeth whitening uses a dental solution to remove stains or discolorations, making your smile brighter. While veneers can also brighten your smile, they are only applied to your front teeth and won't help the ones in the back. By undergoing teeth whitening first, we can brighten all of your teeth and then match the shade of your veneers to your dazzling smile.
Veneers can upgrade the look of a misshapen or worn-down tooth, but they only enhance one tooth at a time while Invisalign® can correct several minor orthodontic issues with a single tray. These see-through trays also have a minimal impact on your appearance during the treatment. We can then complement your newly straightened smile with veneers to enhance the overall effect.
Frequently Asked Questions
about Porcelain Veneers
Dr. Vincent Ip makes patient education a cornerstone of his Austin practice. After all, the more you know about our treatments, the more likely you are to choose the right solution for your needs. If you are considering upgrading your smile with dental veneers, we invite you to explore these answers to some of the most frequently asked questions about this popular solution:
Which is better: crowns or veneers?
It all depends on your specific needs. If you have a tooth that is severely misshapen, has very little enamel, or is significantly damaged, a crown is likely the best way to achieve an aesthetic enhancement. Retaining healthy natural dental tissue is always the priority in dentistry, so if your dental imperfections are subtle, a veneer may be a better solution. Dr. Ip will carefully examine your smile and take note of your goals to recommend the best solution for your needs.
Doesn't bonding do the same thing?
Although it's true that dental veneers and bonding serve the same purpose, veneers are a more premium solution with unique benefits. If a tooth needs significant coverage for an issue such as an intrinsic stain, covering the entire front surface with a veneer will look more natural than bonding and will last longer. However, because they are a more significant investment than bonding, many patients choose to receive bonding in order to decide if they would like to eventually upgrade to veneers.
Can veneers be stained?
Veneers are highly stain-resistant, but it's important to remember that your natural teeth are not. The best way to maintain your results is to remain conscious of foods and drinks that could stain surrounding teeth and cause your smile to look inconsistent. When you indulge in coffee, tea, tomato sauce, and other deeply pigmented foods and drinks, take a minute to brush or at least rinse your mouth with water afterward.
What if I eventually decide I don't want to wear a veneer?
Veneers can be removed, but it's important to remember that the teeth must be permanently altered in order to accommodate them. As a result, any tooth that receives a veneer will always require a restoration of some kind. If you are uncomfortable with the idea of a permanent change to your tooth structure, we can explore other options. For example, if you wish to correct mild misalignment, Invisalign could be a viable and more conservative solution.
How long will my veneers last?
Veneers don't last forever. However, by taking proper care of your smile, your veneers could last between 10 and 20 years. In addition to maintaining excellent oral hygiene, you should take care to never use your veneers to bite into especially hard or sticky foods, open packages, or chew on objects like pen caps or fingernails.
"They Have Earned My Loyalty."
"I've been going to Smile360 since I moved to Austin 8 years ago, and they have certainly earned my loyalty! From Invisalign to cleanings to crowns and everything in between, Dr. Ip is always clear about treatment plans and very friendly, and the staff has been nothing but wonderful and kind!"

Tiffany Lepa, 5-Star Google Review